Despite being 2-8 in their last 10 games, and having lost their last three series, the Red Sox still remain well in the thick of things in the AL East race. But this upcoming series with the Tampa Bay Rays could be their last gasp.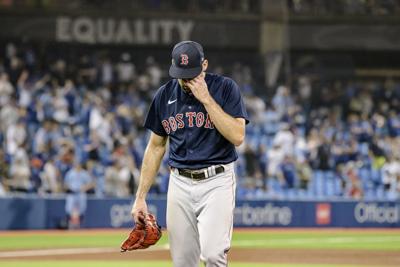 The Red Sox have looked like a completely different team since the trade deadline, and it's hurting them in the AL East race. The Red Sox have had a chance to bury both the Blue Jays and the Yankees in the standings and have failed to do so, now both teams have crawled back into the picture. I mentioned the Red Sox are 2-8 in their last 10 games… the Rays, Blue Jays and Yankees are all 8-2 in their last 10. Yet the Red Sox still sit in second place in the division with another golden opportunity to prove themselves looming ahead.
The Red Sox will have today off before taking on the Rays for a three game set at Fenway Park. Needless to say, this will be a must win series for the Red Sox, as Boston currently sits four games behind Tampa, who is slowly starting to run away with the AL East. The reason for the Red Sox struggles are simple, and honestly, could be worrisome. But if there is one thing we have learned from this 2021 Red Sox team, it is that they don't give up. So what is it the Red Sox need to fix prior to taking on the Rays in this monumental series?
Bullpen Needs To Find Themselves
Let's start with the obvious, the bullpen needs to be better. The Red Sox bullpen may have over achieved a bit prior to the All Star Break, but they have been really bad as of late. In the last seven days, Red Sox relievers have an average ERA of 4.25, and an average WHIP 1.34. The Red Sox bullpen has been great most of this season, but they have been struggling mightily during this skid. That is the team will need to fix to return to where they were. 
Bats Need To Get Going
Prior to Sunday's eight run game, the Red Sox were averaging just 2.5 runs per game over their last series. Prior to the All Star break, the Red Sox were averaging 5 runs per game. With the bullpen struggling the way they are, the Red Sox need to provide more run support.
If the Red Sox want to keep their AL East championship hopes alive, this is the biggest series of the season so far. Luckily for the Red Sox, they will be returning back to Fenway Park for this series, where they are 20-9 since the stadium returned to full capacity.